Repetition, Variation, Migration: A Virtual Generative Workshop
---
Saturday, October 2, 2021
2:00 - 5:00 PM Eastern Time
Virtual Event
Free and Open to the public
RSVPs required
(Request a spot)
---
---
As part of Poetry@Tech's Community Workshop initiative, join us for a unique generative poetry workshop with Chen Chen on Saturday, 2 October 2021 from 2:00 to 5:00 pm.
This event is free and open to the public. However, due to space constraints, please RSVP for the event so we may save you a spot. Please request to attend the workshop by filling out this form. 
For more information and directions, you may contact Travis Denton, at travis.denton@lmc.gatech.edu .
Here's more about Chen's primary topic of discussion:
Workshop Synopsis
---
In this generative workshop we'll discuss how contemporary immigrant and refugee poets use various kinds of repetition and variation to articulate their lived experiences. Between talking about model poems by Tarfia Faizullah, Li-Young Lee, Aracelis Girmay, and others, we'll try to use repetition and variation in our own ways. We'll play and fail and try again. We'll leap.
About the Poet
---
Chen Chen is the author of the forthcoming poetry collection, 'Your Emergency Contact Has Experienced an Emergency' (BOA Editions, 2022)and the forthcoming book of essays, 'In Cahoots with the Rabbit God' (Noemi Press, 2023). His debut book of poems, 'When I Grow Up I Want to Be a List of Further Possibilities' (BOA Editions, 2017), was longlisted for the National Book Award and won the Thom Gunn Award, among other honors. He teaches at Brandeis University.
---
---
Post-event report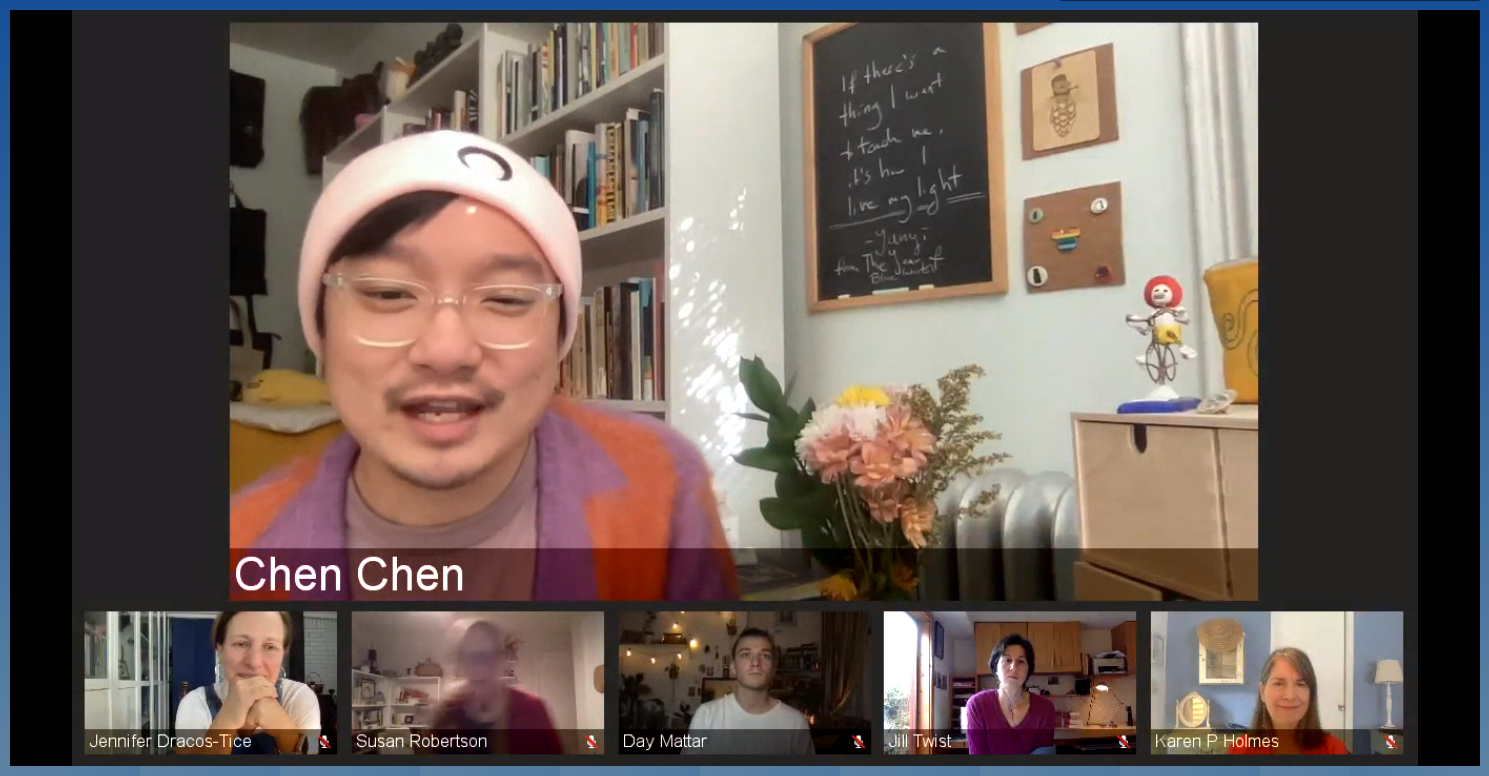 We'd like to thank Chen Chen for a wonderful and informative workshop. With over 80 requests for spots, we were able to accommodate over 40 attendees from around the world who, over the course of three hours, were guided by Chen through multiple prompts using repetition, variation, and divergence to deepen one's poetry.
We welcome you to explore these themes through the poems listed below.
Chen Chen has most generously allowed us to share the google document with the prompts and poems discussed in today's workshop, which may be found by clicking the link below.
Prompts
---
Prompt 1:
What is a physical object you associate with your childhood? Try to be as specific as you can, the way Lee is with persimmons. Start by describing the object in as much concrete and sensory detail as you can. Then, let yourself fall into your personal and idiosyncratic associations with the object. Don't worry about chronology; in fact, let yourself jump around in time and setting. Feel free to write in irregular-line stanzas as Lee does. Or write this as a prose reflection/as journaling. Why is the object significant to you? Answer this question through your images, through your senses.
If being a refugee or an immigrant is a part of your or your community's lived experience, then you might try to bring that into the poem, as Lee does in "Persimmons," but this is not required—and that subject might arise more subconsciously in the poem, as in "Have You Prayed?"
Alternate prompt:
Drawing inspiration from "Have You Prayed?" try to write a poem in which every stanza ends with or contains somewhere within it a question.
---
Prompt 2:
Let's try to write a poem in which a key word repeats and can be replaced with another word, fitting in with the rest of the language yet changing the meaning of the poem as a whole. I recommend writing this as a prose poem, like Ruefle's, so you don't need to worry about lineation or creating stanzas for the time being. And you might try key emotion words that are (supposed) opposites of one another, like sadness and happiness, or calm/peacefulness and anger/rage, or fullness and hunger, or emptiness and fulfillment, etc. If being a refugee or an immigrant is a part of your or your community's lived experience, then you might try to bring that into the poem, as Faizullah has, but this is not required (and that subject might arise more subconsciously in the poem).
Take home prompt:
After the workshop, you might then try to shape this writing into a ghazal, where the recurring key word becomes a refrain at the end of each couplet.
---
Prompt 3:
Consider the entire constellation of people in your life—friends, family, teachers, classmates, custodial staff, grocery store cashiers, strangers you cross paths with on your way to dinner or a poetry reading, etc. etc. etc. Who do you tend to notice? Who do you tend not to notice? I am sure some of these people are refugees or immigrants, or the children of people who had to leave a homeland, for one reason or another. Write an ode to this constellation, to each star within it; let the poem expand and expand, as Girmay's does. Try imitating her structure of repetition: You, you, you. Praise a specific action that each person performs, offers. Some people you may focus on for longer—pay attention to why. Are these usually the people you would focus on? Keep going, keep writing. Singing. Try not to lift your pen from the page for the entirety of the writing time.
---
Prompt 4 (take home):
Write a poem that begins with the line "You deserve your beautiful life" and includes a recipe for a dish that is important to you. What personal touches do you bring to that recipe? What would it mean to you to believe that you deserve your beautiful life? Answer through your recipe, your ingredients, their deliciousness.