Nationally-acclaimed poet and poetry teacher Thomas Lux served as the founding director of Poetry @ Tech and the initial Bourne Chair in Poetry from 2002 until his death in 2017.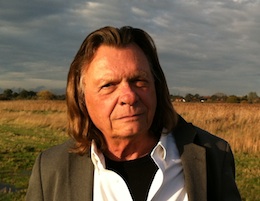 In addition to having been on the writing faculties of the country's most prestigious M.F.A. and Creative Writing Programs (Columbia University, Boston University, University of Iowa, University of Michigan, University of Houston, and the University of California, Irvine, among others), Thomas Lux taught at Sarah Lawrence College for twenty-seven years, the last nineteen of which, he was director of its M.F.A. Program in Poetry. Lux published fourteen books of poems, most recently To the Left of Time, and several limited edition books that have earned him, among other awards and prizes, the $100,000 Kingsley Tufts Poetry Prize, four Pushcart Prizes, and grants from the Mellon Foundation, the Guggenheim Memorial Foundation, and three from the National Endowment for the Arts. Lux was also awarded the Robert Creeley Award. He was further honored with the Bank of New York Award for Excellence in Teaching. In 2003, Lux was awarded an Honorary Doctorate of Letters from Emerson College, Boston. He also edited and wote the introduction for Bill Knott's I Am Flying into Myself: Selected Poems 1960-2014 (Farrar, Straus, and Giroux, 2017.)
See a short video from a 2012 interview with Prof Lux by Felipe Barral Momberg ( (c) IGNI Productions)
Lux saw nothing at all antithetical about poetry and poetry-writing classes in a technological environment.
The making of art, good art, whether it be poems, paintings, or musical compositions, is a task that requires a kind of engineering, a kind of architecture, and vast technical skills. Good art, historically, is made; it doesn't just happen--it's a result of planning, rigor, attention, intuition, trial and error, discipline, and the luck that sometimes comes when all of the above are applied. We need poetry now more than ever. Poetry, and all of the arts, can help us cope and understand the world around us. The arts allow us, and allow us access to, human expression, a precious and necessary freedom. Poetry, the act of making or reading a poem, is by nature an affirmative act, an act of creation and possibilities.
Thomas Lux could be counted on to use his whole heart and his inexhaustible energy to help Tech students explore and discover the joy and passion, the deep human life force that fills all good art. In addition to his duties on campus, Lux directed a multi-tiered poetry-writing program in the community.
Books of Poetry by Thomas Lux
Memory's Handgrenade (Pym-Randall, 1972)
The Glassblower's Breath (Cleveland State, 1976)
Sunday (Houghton Mifflin, 1979)
Half Promised Land (Houghton Mifflin, 1986)
The Drowned River: New Poems (Houghton Mifflin, 1990)
Split Horizon (Houghton Mifflin, 1994)
The Blind Swimmer: Selected Early Poems 1970 - 1975 (Adastra Press, 1996)
New and Selected Poems: 1975 - 1995 (Houghton Mifflin, 1997)
The Street of Clocks (Houghton Mifflin, 2001)
The Street of Clocks, British Edition (Arc Publishing, 2003)
The Cradle Place (Houghton Mifflin, 2004)
 God Particles (Houghton Mifflin, 2008)
Child Made of Sand (Houghton Mifflin Harcourt, 2012)
To the Left of Time (Houghton Mifflin Harcourt, 2016)
Prof. Lux reads some of his poems in this video