---
      Poetry@Tech became a reality in Fall 2002 with the creation of the Margaret T. and Henry C. Bourne, Jr. Chair in Poetry, first held by acclaimed poet Thomas Lux, and The H. Bruce McEver Visiting Chair in Writing, which began in Spring 2001.
      With visionary gifts to the School of Literature, Media, and Communication, and the Ivan Allen College of Liberal Arts, Henry C. Bourne, Jr. and H. Bruce McEver ensure that in a highly specialized and technological environment, students' aptitudes in the humanities are nurtured and supported as a foundation for life-long learning.
     In addition to poetry classes on campus, current Bourne Chair Ilya Kaminsky and Poetry@Tech Associate Director Travis Denton will bring the finest names in poetry to Atlanta from within Georgia, all over the United States, and abroad, reaching well beyond the traditional notion of what a poem is and well beyond the expected audience for poetry.
      For more information about Poetry@Tech, email Travis Denton travis.denton@lmc.gatech.edu.
---
Mission
The following is an excerpt from Thomas Lux's mission statement for the Bourne Chair of Poetry:
I see nothing antithetical in a major university known the world over for its engineering / architecture / computational science / management, and other related subjects of study, also making available to its students writing, literature, and the arts in general. The making of art (let's use poetry as an example!) is a task that requires a kind of engineering, a kind of architecture, and very real and complex technical skills. Good poems, historically, are made; they don't flow down the arm of the dreamy poet to the page. Good poems are the result of planning, rigor, attention, intuition, trial and error, discipline, and the luck that sometimes comes when all of the above are applied. A flawless architectural design, an elegant chemical equation, a good poem is supposed to seem simple, spontaneous, fluid. To achieve his or her goals, that precision, that truth, the engineer, the chemist, the architect, the poet usually must work diligently, must sweat blood.
---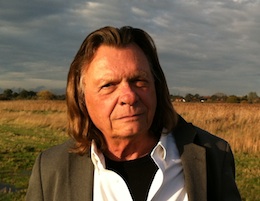 It will always be our goal to bring poetry to as wide an audience as possible, to recognize poetry for its possibilities in all our lives, and to recognize those involved in the craft of writing poetry — poets as well as spoken word performers, whether accomplished, rising, or beginning — for the artists they are.
— Thomas Lux, Founding Director
---