Poetry@Tech was born out of the generosity of our benefactors - Henry C. and Margaret Bourne, and Bruce McEver.
Much of the work we do is only possible through philanthropy and grants from patrons of the arts, as well as organizations and foundations that believe in our mission and support the arts. Financial support and philanthropy will help us continue our mission of expanding the reach of poetry to students and audiences in the US and abroad.
If you would like to make a donation to Poetry@Tech, or discuss ways to support our activities and our community, please contact Travis Denton at travis.denton@lmc.gatech.edu.
Our Patrons & Benefactors
Friends of Poetry@Tech
The Poetry@Tech program owes its creation and continued existence to the support and generous endowed funding from our benefactors. Their gifts have allowed us to bring incredible poets to teach at Georgia Tech, create one of the best poetry reading series in the country with over 300 poets from around the world, and become a vital part of the Georgia Arts and Culture scene.
We would like to recognize and thank our benefactors, including:
Henry T. & Margaret C. Bourne
H. Bruce McEver
President G. Wayne Clough & Anne Clough
Cheney G. Crow
Ronald Franke & Sharon James
Margaret & Henry Bourne
Margaret and Henry Bourne endowed the Bourne Chair in Poetry in 2002 to ensure that Georgia Tech students would always have an opportunity for first-rate instruction in the great poetry of the world. They considered it especially important that, in the highly specialized and technical areas of engineering, science, and management, students' aptitudes for the humanities are nurtured and supported as a foundation for life-long learning.
---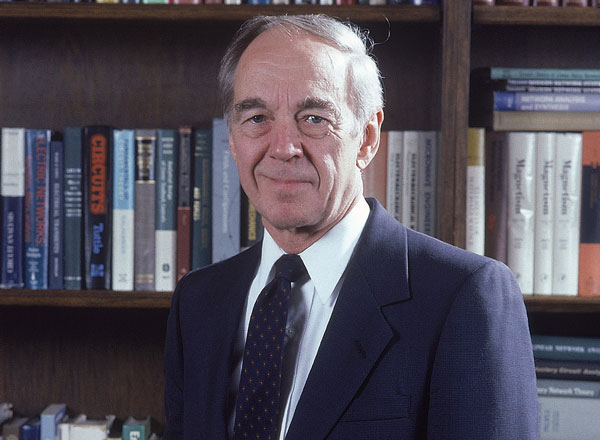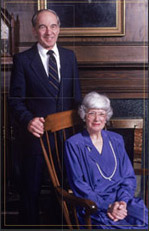 Henry Clark Bourne Jr. (1921 - 2010) was born in Tarboro, NC. He served in the Army Corps of Engineers from 1943 to 1946, before returning to MIT to earn Masters and Doctoral degrees in Electrical Engineering. He served as a professor in many top universities, including the University of California, Berkeley, Rice University, and later, Georgia Tech. He later served as the Vice President of Academic Affairs and, from 1986-1987, as the Interim President of Georgia Tech.
Henry and his wife of 56 years, Margaret Thomas Bourne (1929 - 2014) were named honorary alumni of Georgia Tech. Margaret was also born and raised in Tarboro, NC, and earned a bachelor's degree in sociology-economics from Salem College in 1952.
Bruce McEver
Bruce McEver wants all Tech students to experience the broader aspects of liberal arts, including poetry, literature, and travel, so they will understand the context and impact of the technical expertise they are gaining, and he endowed the McEver Poets-in-Residence so that the School of Literature, Media, and Communication of the Ivan Allen College of Liberal Arts can bring a top writer to campus each year.
In addition to teaching Tech students, the McEver Poets-in-Residence will reach into the community with a program of poetry events and workshops designed to recognize poetry for its possibilities in all our lives and to recognize those involved in the craft of writing poetry--whether accomplished, rising, or beginning--for the artists they are.
---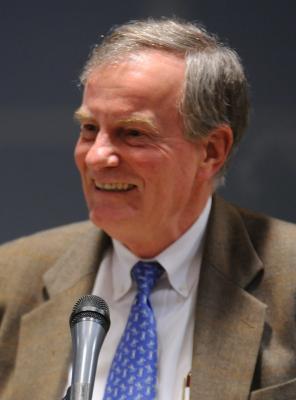 Bruce McEver left Georgia Tech in the 1960's armed with an Industrial Engineering Degree and a love of poetry spawned in a class with then English Professor James Dean Young, who had taught at Tech for 28 years. What Bruce McEver learned about the relationships between the mechanical arts and the fine arts went with him to Harvard and, McEver believes, forms the foundation of his business acumen and success. Aside from being a lover of poetry, Bruce McEver has gone on to publish three chapbooks and two books of poems, including Full Horizon, Scaring up the Morning, and Like Lesser Gods. His poems have also been widely published in journals and magazines across the country.
Cheney Crow
Cheney G. Crow, a friend of Poetry@Tech, has endowed charitable gift annuities designated for the Thomas N. Lux Poetry@Tech Student Enrichment Endowment Fund in the School of Literature, Media, and Communication. Her generous gift to Poetry@Tech funds the Thomas Lux Poetry Award, and ensures that we can support, encourage, and recognize outstanding student poets at Georgia Tech.
---
Dr. Cheney Crow is an applied linguist, translator, activist and writer. Her poems have appeared in The Cortland Review, Tupelo Quarterly, International Poetry (translation), Terminus, Human Equity Through Art (HEArt), and others.
Dr Crow began writing as a young girl in Washington DC. She earned her BA at Sarah Lawrence College, studying with Thomas Lux, and an MFA in poetry at the Warren Wilson MFA Program for Writers, as well as a PhD in Applied Linguistics, and taught French Linguistics at the University of Texas at Austin.