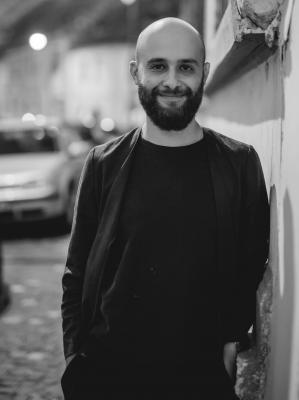 Yevgeniy Breyger was born in Charkow, Ukraine and moved to Magdeburg, Germany with his family in 1999. He studied Creative Writing and Cultural Journalism at the University of Hildesheim, Literature Writing at the Deutsches Literaturinstitut (German Literature Institute) in Leipzig, and Curatorial Studies at the Hochschule für Bildende Künste – Städelschule (Academy of Fine Arts Städelschule) in Frankfurt am Main.
His debut collection, 'flüchtige monde' ('ephemeral moons', kookbooks, 2016) was selected among the poetry volumes of the year by the Literaturhaus Berlin and among the best poetry debuts of the year by Haus für Poesie. His second volume of poetry, 'gestohlene luft' ('stolen air') is forthcoming from kookbooks in 2020, and is supported by grants from the German Literature Fund and the Herrenhaus Edenkoben.
Breyger's work has been published in magazines and anthologies such as Jahrbuch der Lyrik, Lyrik von jetzt 3, Bella triste, and Edit. He was an editor of Tippgemeinschaft, the annual anthology of the students at the Deutsches Literaturinstitut, and the anthology Ansicht der leuchtenden Wurzeln von unten (poetenladen, 2017). His awards include the Selma Meerbaum-Eisinger Literature Prize in 2011, the Munich Poetry Prize (2nd Prize) in 2018, and the Leonce and Lena Prize of the City of Darmstadt in 2019. At the end of 2020, Breyger will start a scholarship at the Writer's House in Stuttgart. Breyger is a member of the poets' collective Salon Fluchtentier. He lives and works in Frankfurt.
---