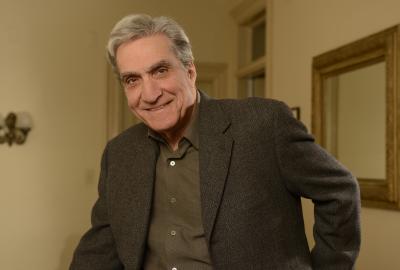 As Poet Laureate, Robert Pinsky founded the Favorite Poem Project, in which thousands of Americans — of varying backgrounds, all ages, and from every state — shared their favorite poems. The anthology Americans' Favorite Poems, which includes letters from project participants, is now in its 18th printing.
Pinsky is author of nineteen collections of poetry, which have earned praise for their wild musical energy and range. These include Selected Poems (FSG, 2011), The Figured Wheel: New and Collected Poems 1966-1996, which was a finalist for the Pulitzer Prize, and the prose book, The Life of David. His landmark translation of The Inferno of Dante received the Los Angeles Times Book Award and the Howard Morton Landon Prize for translation. He is also co-translator of The Separate Notebooks, poems by Nobel Prize winner Czeslaw Milosz.  He most recently published his memoirs, Jersey Breaks (WW Norton, 2022); while his most recent collection of poetry is At the Foundling Hospital (FSG, 2016).
Pinsky publishes frequently in magazines such as The New Yorker, The Atlantic Monthly, The Threepenny Review and The Best American Poetry anthologies. His honors include the PEN/Voelcker Award, the William Carlos Williams Prize, the Lenore Marshall Prize, Italy's Premio Capri, the Korean Manhae Award and the  Harold Washington Award from the City of Chicago. He teaches in the graduate writing program at Boston University which, in 2015, named Robert Pinsky a William Fairfield Warren Distinguished Professor.