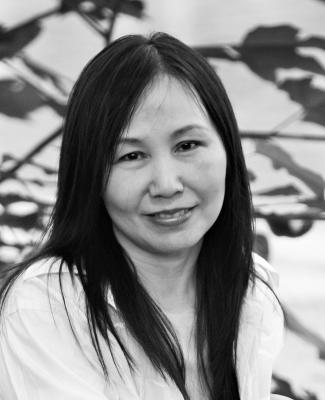 Ming Di is a Chinese poet based in the US with six books of poetry in Chinese and four in collaborative translation. Her poetry has been translated into several languages: River Merchant's Wife (Marick Press, 2012), Luna fracturada (Valparaíso/Spain, 2014), Histoire de famille (Transignum/France, 2015), Livre de sept vies (Recours au Poème éditeurs/France, 2015), and Distracción (forthcoming in Costa Rica).
She has translated many poets from English to Chinese including Marianne Moore, Anne Carson, and Dancing in Odessa—Poems and Essays by Ilya Kaminsky (Shanghai Arts and Literature Publishing House, 2013). She edited and co-translated New Cathay: Contemporary Chinese Poetry (Tupelo Press, 2013). She selected and translated with Neil Aitken The Book of Cranes (Vagabond Press, 2015) and with Jennifer Stern Empty Chairs – Poems by Liu Xia (Graywolf Press, 2015), which was a finalist for the Best Translated Book Award in 2016.
Ming Di co-founded Poetry East West journal and serves as the China editor for Poetry International Rotterdam. She has received translation fellowships from the Henry Luce Foundation and a translation award (with Jennifer Stern) from the Poetry Foundation. She attended Boston College and Boston University and taught Chinese at BU before moving to California.