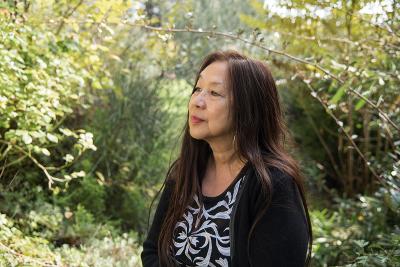 Marilyn Chin was born in Hong Kong. She is the author of five poetry collections, including A Portrait of the Self as Nation (W.W. Norton, 2018), Hard Love Province (W.W. Norton, 2014), Rhapsody in Plain Yellow, and Dwarf Bamboo; and a novel, Revenge of the Mooncake Vixen (W.W. Norton, 2009). In addition to writing poetry and fiction, she has translated poems by the modern Chinese poet Ai Qing and co-translated poems by the Japanese poet Gozo Yoshimasu.
Chin has won numerous honors, including the 2020 Ruth Lilly Poetry Prize, the 2019 American Academy of Arts and Letters Award, a United Artist Foundation Fellowship, the Radcliffe Institute Fellowship at Harvard, the Rockefeller Foundation Fellowship at Bellagio, the Anisfield-Wolf Book Award, two NEA fellowships, the Stegner Fellowship, the PEN Oakland/Josephine Miles Literary Award, five Pushcart Prizes, and a Fulbright Fellowship to Taiwan. Presently, she serves as a chancellor of the Academy of American Poets and lives in San Diego.
---
Get Rid of the X
My shadow followed me to San Diego
    silently, she never complained.
No green card, no identity pass,
    she is wedded to my fate.

The moon is a drunk and anorectic,
    constantly reeling, changing weight.
My shadow dances grotesquely,
    resentful she can't leave me.

The moon mourns his unwritten novels,
    cries naked into the trees and fades.
Tomorrow, he'll return to beat me
    blue—again, again and again.

Goodbye Moon, goodbye Shadow.
    My husband, my lover, I'm late.
The sun will plunge through the window.
    I must make my leap of faith.
(from Rhapsody in Plain Yellow)
---