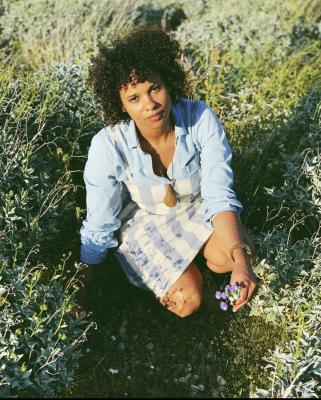 Jasmine Elizabeth Smith (she/her) is a Black poet from Oklahoma City, Oklahoma. Her poetic work is invested in the Diaspora of Black Americans in various historical contexts and eras.
Smith's debut collection South Flight (University of Georgia Press, 2022) was named a finalist for the 2020 National Poetry Series and is the winner of the Georgia Poetry Prize. Her work has been featured in Black Renaissance Noir, POETRY, the LA Review of Books, and Kweli, among others.
Jasmine Elizabeth received her MFA in Poetry from the University of California in Riverside. She is a Cave Canem Fellow and a recipient of the Glucks Art Fellowship. She currently works as an associate guest editor for the Black Earth Institute's About Place Journal and currently serves on the 25th Anniversary Cave Canem Fellows and Faculty Committee while teaching a variety of English courses in her recent home of South Seattle. In rest, you will find Jasmine trekking about by boot or snowshoe in nature.
---
Zouzou
Ain't of no kind word in what they've been telling you.
Heard they call you "Song Bird" these days. Part your beak
and collar the long part of neck with sapphires.
Girl, when are you going to see
you aren't ever goin' be one of them. Don't mean a thing
they pour prosecco in porcelain dishes.
Let you lap leftovers from their palms. Do they pinch
your sides to regurgitate the slug of white cake, candied
roses, the baked breasts of hummingbirds?
Merchant the fetid smell of it into crystal?
I heard their trade ain't much different
from what is done here at home. Only difference
is they prefer their Black rare and chilled over ice,
fine caviars knifed from the ovaries of the South.
Maybe at night you prowl the Turkish rugs.
Dressed in Schiffli lace, an ankle ribbon tagging
you rare specimen. Do they call you beautiful
for one of your kind? Pocket your songs
and measure your skin for couture.
And for who do you think it will make
statement when worn to the Grand Palais Garnier?
---