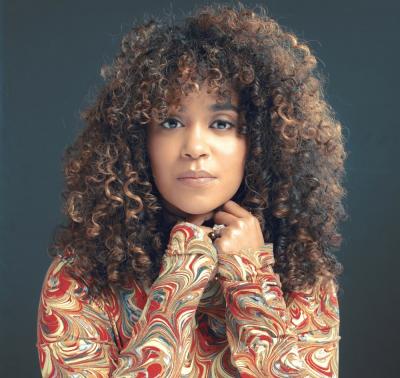 Poet, novelist, and National Poetry Slam Champion, Elizabeth Acevedo was born and raised in New York City, the only daughter of Dominican immigrants. Her poetry is infused with Dominican bolero and her beloved city's tough grit. She is the author of Clap When You Land (Quill Tree Books, 2020); With the Fire On High (Harper, 2019); The New York Times-best selling and award-winning novel, The Poet X (HarperCollins, 2018), winner of the 2018 National Book Award for Young Adult Fiction, the 2019 Michael L. Printz Award, and the Carnegie Medal; and the poetry chapbook Beastgirl & Other Origin Myths (YesYes Books, 2016), a collection of folkloric poems centered on the historical, mythological, gendered and geographic experiences of a first generation American woman. From the border in the Dominican Republic, to the bustling streets of New York City, Acevedo considers how some bodies must walk through the world as beastly beings. How these forgotten myths are both blessing and birthright.
Acevedo is the winner the Horn Book Prize for Fiction and Poetry for The Poet X. The Horn Book Magazine review of the novel calls Acevedo's debut verse novel "an arresting portrait of a young poet coming into her own." They write:
Fifteen-year-old Xiomara, whose name means "one who is ready for war," has been fighting her whole life.… In nearly every poem, there is at least one universal truth about adolescence, family, gender, race, religion, or sexuality that will have readers either nodding in grateful acknowledgment or blinking away tears. 'It almost feels like / the more I bruise the page / the quicker something inside me heals.'
In another review, Justina Ireland observes:
This book crackles with energy and snaps with authenticity and voice. Every poem in this stunningly addictive and deliciously rhythmic verse novel begs to be read aloud. Xiomara is a protagonist who readers will cheer for at every turn. As X might say, Acevedo's got bars. Don't pass this one by.
Acevedo's poems have been published or are forthcoming in Poetry, Puerto Del Sol, Callaloo, Poet Lore, The Notre Dame Review, and others. Acevedo is a Cave Canem Fellow, Cantomundo Fellow, and participant of the Callaloo Writer's Workshop. She's given TED Talks and has been a featured reader nationally and internationally, including appearance at renowned venues such as The Lincoln Center, Madison Square Garden, the Kennedy Center of the Performing Arts, South Africa's State Theatre, The Bozar in Brussels, the National Library of Kosovo and many others. Acevedo holds a BA in Performing Arts from The George Washington University and an MFA in Creative Writing from the University of Maryland. She resides in Washington, DC with her husband.