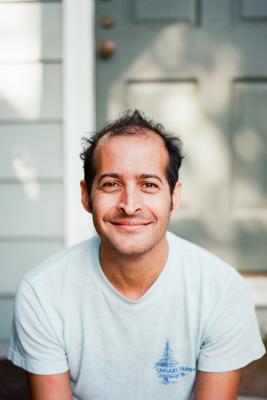 Anis Mojgani is the author of four poetry collections, all published by Write Bloody Publishing: The Pocketknife Bible (2015), Songs From Under The River (2013), The Feather Room (2011), and Over the Anvil We Stretch (2008). He is a two-time National Poetry Slam Champion and winner of the International World Cup Poetry Slam. A TEDx Speaker and former resident of the Oregon Literary Arts Writers-In-The-Schools program, Mojgani has performed for audiences as varied as the House of Blues and the United Nations. His work has appeared on HBO, NPR, and in such journals as Rattle, Paper Darts, Forklift Ohio, and Used Furniture Review.
Pulling inspiration from his Black and Iranian heritage, his childhood memories, his worldview, love, and existence, Anis takes seemingly commonplace subject matter and sculpts inspiration from them. Weaving dream-like tales that dip into imaginative imagery, Anis's poems make the ordinary almost surreal and, through jolts of wide-eyed writing and striking honesty, make that which is fantastical remarkably relatable. Both innocent and heartbreaking, introspective and curious, the humanity his work carries causes listeners to remember and experience a childhood that is not their own but feels like it was. In the words of Tony Hoagland, "Anis Mojgani restores us to the genius of child-mind—his poems are heroic adventures that take us outward and upward for our own collective good."
A graduate of the Savannah College of Art and Design, Mojgani works on the covers for his own books as well as occasionally providing work for others. Originally from New Orleans, he currently lives in Austin, Texas.