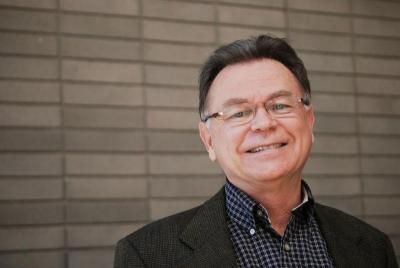 Alberto Ríos is the author of thirteen full-length collections of poetry, including Not Go Away is My Name (2020), The Dangerous Shirt (2009), The Theater of Night (2006), Five Indiscretions (1985), and Whispering to Fool the Wind (1982). He has also published three collections of short stories, and a memoir.
The son of a Mexican father from Tapachula, Chiapas, and an English mother from Warrington, Lancashire, Ríos was raised on the American side of the city of Nogales, Arizona, on the Mexican border. He is the recipient of the Arizona Governors Arts Award, fellowships from the Guggenheim Foundation and the National Endowment for the Arts, the Walt Whitman Award, the Western States Book Award for Fiction, and six Pushcart prizes.
Ríos's poems have been published in 250 other national and international literary anthologies. He served as a chancellor of the Academy of American Poets from 2014 - 2020. In 2013, he was named Arizona's first Poet Laureate. his work is regularly taught and translated, and has been adapted to dance and both classical and popular music. He resides in Chandler, Arizona.
---
Nikita
Under a heavy wire milk case,
A piece of concrete foundation
On top, in summer, in her backyard,
Mrs. Russo keeps the cat Nikita safe
From birds, from dogs, from eating
Johnson grass, which he throws up.
Nikita waits for ants to wander in
And for the sun to leave.
Instead, she comes to keep him
Company, saying You look fat
And that her son died,
Remember I told you?
Walking thin in his uniform
On a road.
---