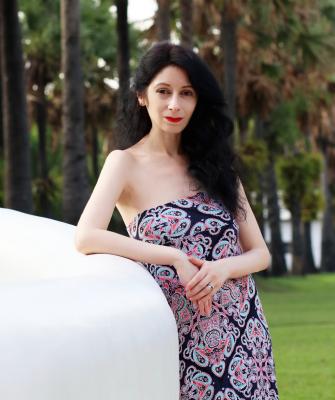 Born to a Mexican mother and Jewish father, Rosebud Ben-Oni is the winner of 2019 Alice James Award for If This Is the Age We End Discovery, which received a Starred Review in Booklist and was a Finalist for the 2021 National Jewish Book Award in Poetry. She is also the author of turn around, BRXGHT XYXS (Get Fresh Books, 2019) and her chapbook 20 Atomic Sonnets, which appears online in Black Warrior Review (2020) as part of a larger future project called The Atomic Sonnets started in honor of the Periodic Table's 150th Birthday.
She is a recipient of a 2021 City Arts Corps grant, a 2021 Queens Arts Fund grant from the Queens Council for the Arts, a 2014 NYFA Fellowship in Poetry and a 2013 CantoMundo Fellow. Her poem 'Dancing with Kiko on the Moon' was recently featured in Tracy K. Smith's The Slowdown. In 2017, her poem 'Poet Wrestling with Angels in the Dark' was commissioned by the National September 11 Memorial & Museum in NYC, and published by The Kenyon Review Online. She lives in New York City where she teaches poetry workshops at Catapult, The Speakeasy Project and UCLA Writers' Program online. She writes weekly for The Kenyon Review blog.
In May 2022, Paramount commissioned her video essay 'My Judaism is a Wild Unplace' for a campaign for Jewish Heritage Month, which appears on Paramount Network, MTV Networks, The Smithsonian Channel, VH1 and many others.
---
Poet Wrestling with Angels in the Dark
    Commissioned by the National September 11th Memorial & Museum
& their hearts are shards of stained glass
& their eyes bottle-green & incanting
the whole of this city & the whole of the city i have seen

        in the humidity
                sobering           the great rose window of st. john the divine
                        -ly unfinished              of the city

                                                                                        the whole of the city

        where one cold february in the bronx it was snowing
        & soren & i wrote love poems for garden-goers
        in the conservatory among succulents & palm trees
        & carnivorous plants behind glass whose green hearts dance

                                        in supper clubs of brighton beach
                                        another time the whole of city
                                        in winter stole & long-gloved
                                        the fearless girl of bowling green

                lays her weary head heavy
                in the chapel of temple emanu-el
                where the stained glass speaks
                of a sprawling city dreamed

        but never finished, the whole of this city

                & darelo & i take the second avenue subway
                & still don't quite believe its existence,
                though third rail, live wire, heartbeat.

                        & 7 train love brings me home, though signal malfunction,
                        though delays, though local turns express midway & doors

                                                                don't always open
                                                                        without the whole of the city
                                                                                filling us all to the brim.

& i have ridden my beloved 7 carrying post-heartbreak
        jerusalem, when more than once i was broken glass
                shattering in the midharov
                        empty on sabbath morning.

& in these shards are the stained-glass angels
        i have wrestled in the dark,
                wrapped around their soda-lime
                        limbs like potter's wheel.

& only in my beloved's arms do each day i awaken
        in the whole of the city
                as lasting & green
                        as the kind of fragment
                                you plant & let broken-be 
---